Your Very Own
Printed Book!
Your book instantly transforms you into a trusted authority so you can easily convert prospects into clients.
"The books put you right on top because they're so professionally done. Your picture is on the cover. All the ideas inside are very appealing to sellers or buyers."
Catalina Schraeder
Vista Florida Realty
Your Book Instantly Transforms You Into A Trusted Authority.
Publishing a book is a powerful way to stand out from your competition. This enables you to win more business without having to resort to pushy sales tactics and other underhanded sales strategies.

Prospective clients will be impressed by the professional design, helpful content, and the fact that you're a published author. Give your book to buyers and sellers, and they'll realize you're a genuine real estate expert.

Rather than being "just another" real estate agent, you'll join the ranks of Gary Keller, Ryan Serhant, Josh Altman, and other top agents who used a book to become a trusted authority.
Use Your Book To Generate Leads.
You can use your book as "bait" to attract people who are thinking of buying or selling a home.

Instead of offering the same thing as every other agent, you can offer something that makes you stand out.

People love these books because they're full of helpful information, and they'll enter their information to receive a copy.
Your Book Instantly Transforms You Into A Trusted Authority.
Rather than being just another "pushy" agent desperate for business, you're actually providing something that will help home sellers.

And by doing this, you're providing helpful information that demonstrates your expertise before they've ever hired you.
Show People You Can Help Them By Actually Helping Them.
Real estate is complicated, and everyone knows it. There are countless pitfalls clients need to avoid.

When you give prospective clients a book, you're educating them on how everything works.

This creates goodwill and subtly demonstrates your expertise. The readers will want to reciprocate by hiring you to help them sell or buy a home.
You Close More Appointments When You Have A Book.
Imagine being able to walk into every appointment and "wow" the person right off the bat.

That's what happens when you give away your book at the beginning of a listing presentation. Sellers will be impressed, and every presentation will start off on the right foot.

As a result, you'll win more listings and grow your business.
Front Cover
Your picture and name are featured prominently to brand you as a Trusted Authority.
You can choose from dozens of different titles and book layouts. Use the standard picture for the cover, or customize it with a picture of your choice.
(For this book, Jim got his cover photo from Shutterstock.)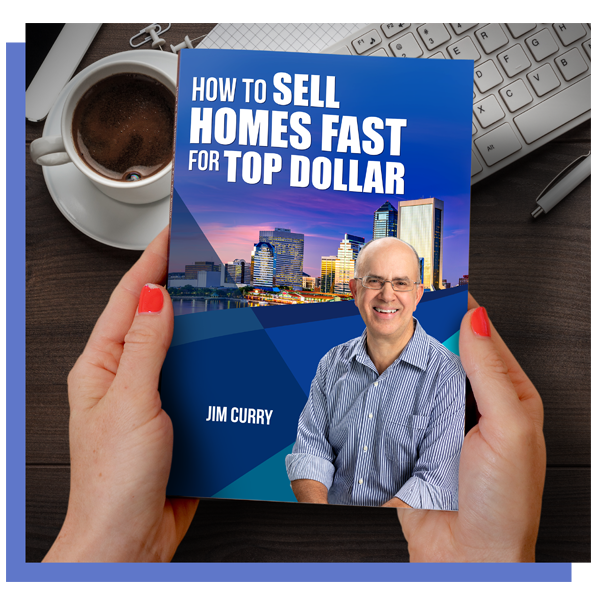 Testimonials
Testimonials and reviews are some of the most powerful ways to win clients. After all, a client is more likely to believe a review or testimonial than your own word.
That's why we allow you to add all of them inside your book. Just type up the text and copy it into the Book Builder App. You can customize this section of the book to your heart's content.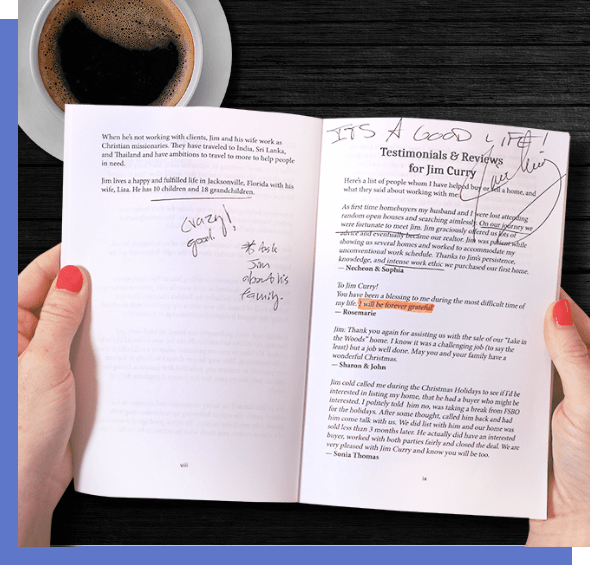 Helpful Content
Helpful, useful content enables the reader to make better decisions during their real estate transaction.
At the same time, the content subtly positions you as an expert and demonstrates your expertise.
Your prospective clients will be impressed and call you!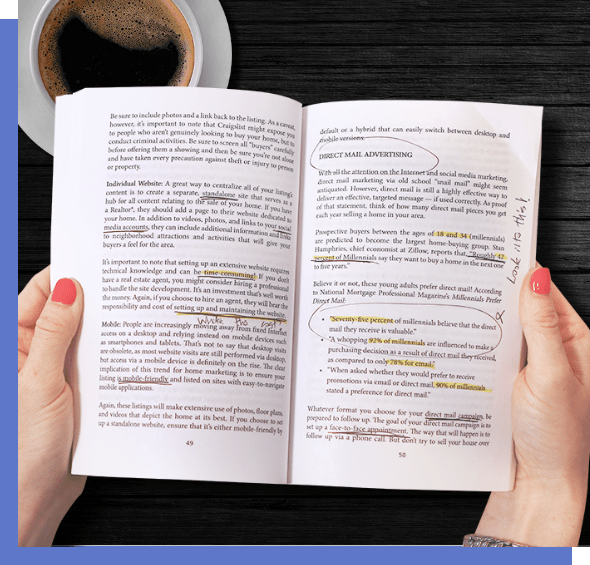 Back Cover
The back cover displays your name and a brief bio prominently, so prospective clients know why you're different from all the other agents in your market.
In addition, the back cover tells the reader about the different tips you reveal inside the book and subtly sells them on working with you.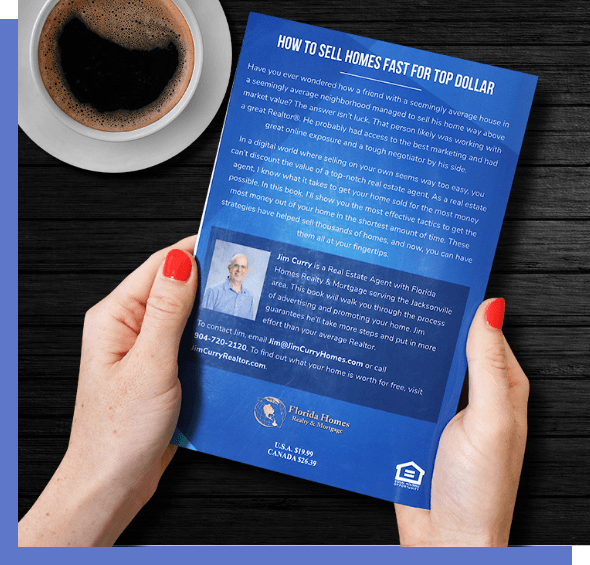 Other Languages Available
With the wide support for other languages available, you can easily expand your prospective clients and call you!
At the same time, the content subtly positions you as an expert and will demonstrate your expertise. Currently supporting the Spanish language.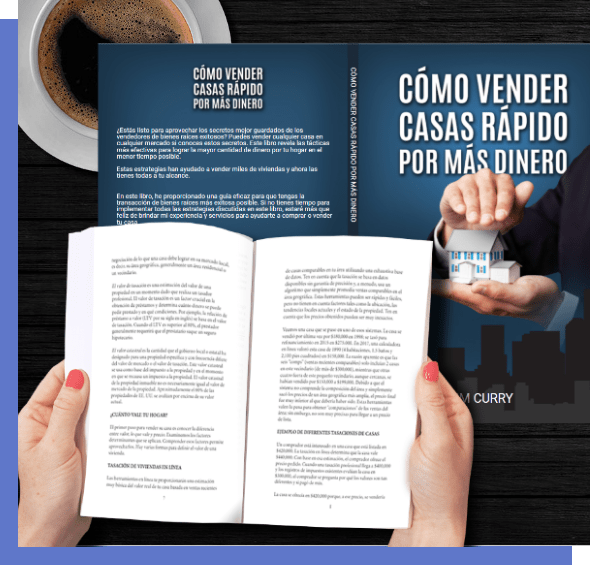 Agents Everywhere Are Using Books To
Transform Themselves And Their Businesses
Agents Everywhere Are Using Books To Transform Themselves And Their Businesses
"I went on a listing presentation. I didn't know the client and they were nervous about moving. I gave them my book and the wife immediately said 'this is our agent. Anybody that knows enough to write a book must be the smartest agent we've talked to.' End of story I got the listing."
"I run Facebook Ads to get seller leads. I found that I get more leads when I offer my book – which lead to listings. Sellers love my book and I get better results when I bring my book to listing presentations. They love the 80/20 story inside the book. The books helped me close 12 transactions over the last 12 months."
"I met a seller, did my presentation, and they told me they'd decided to hire someone else. Before I left, I gave them my book. A few days later they called back and hired me. After I listed the house for $850,000, I asked why they changed their mind. They told me, 'None of the other Realtors had a book and that's why we hired you."
"I gave my book to a local divorce attorney and they were very impressed. They referred me 4 listings and one buyer."
"Whenever I host an Open House, I offer visitors my buyer and seller books. So far, I have gotten 4 listings and 3 buyers from this strategy and it's still bringing in business today."
"I got 8 listings from my different books. One came because a client passed my book to his friend. I got the remaining listings from other seller leads I sent my book to."
"I dropped my book off at a FSBO and told her, 'I see you're selling your property. I have a book on how to get the most amount of money for your home.' She called me and I listed her house. I used that same strategy to list 4 other FSBOs."
"I mail a copy of my book to the Expireds and then review it on the listing appointment. This has enabled me to convert 11 Expireds into listings."
"I've used the books to boost my Expired Listing efforts. The books have made everything so much easier. I get the book hand delivered or I mail it, and they call me to list. This has enabled me to list 10 Expireds so far and I'm listing more every month."
"I tried something new and placed my books inside waiting rooms at doctor's offices and car dealerships. People saw my books and started calling me to list. I got 5 listings within 90 days."
"I am able to get a lot of for sale by owners by using the books. I go and drop off a package with my book. And I can tell you nine times out of ten when they do decide to choose a realtor, it's me."
Once you buy these books and you have a, an investment, you will be doing it. Once you get them out, there's other business to be had.
How It Works
Choose Your Book From Our Library of Over 20 Niche Templates
We have over 20 unique books for you to choose from. From books on Expired Listings to For Sale By Owners, our library has the perfect book for your needs.
Choose the book that best represents your business, prove you understand your clients' unique needs, and turn those niches into riches.
Select a Book Cover Template & Customize Your Book's Look and Feel
After you choose your book, you can customize it and make it uniquely yours. Select the book cover you prefer and add your own photo with the click of a button.
Next, you can customize the content of the book as much or as little as you'd like.
Once You're Satisfied With The Edits To Your Book, You're Ready To Publish
Now your book is customized and ready for publication! In just a few clicks, you can send your book off for print. You'll also want to check your email for your shareable digital book link.
Your Digital Book is more relevant than ever and can be sent to anyone via text or email.
Your Digital Book is more relevant than ever. Email or text your clients a link to your Digital Book so they can read it any time, anywhere. You can even add a link to your Digital Book in your email signature. There's no limit to how many times you can share it.
Hard copies of books never go out of style. People love having an actual physical book they can hold and feel.
Your book will be kept on a coffee table or bookshelf, not thrown in the trash like a flyer or business card. A book is a high-value item that is kept around and can generate new leads for you long after you've left a listing appointment.
A hard copy of your book is a physical reminder of your expertise and lends weight to your position as an authority and guide. Your book is educational and informative, not 'salesy' like other marketing material.
Use Your Book As the Ultimate Lead Generation & Sales Closing Tool
Authorify Digital Bundle
Digital Book + Success Training + Lead Capture Site
A complete marketing system that allows you to capture leads and convert them into clients with your own personally branded book.
Give your clients something unique that answers their most pressing questions about buying and selling.